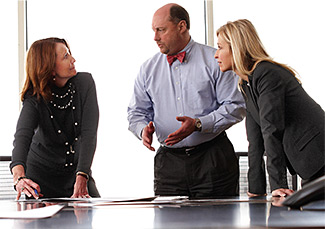 Institutional and individual investors across the United States rely on the Baird Funds – a no-load mutual fund family with more than $32 billion in assets – for investment strategies that help meet their specialized needs.
The Baird Funds offer a proven track record and a variety of portfolios spanning fixed income and equity asset classes. They feature competitive fees and are managed with a careful focus on risk control. And because Baird is an employee-owned firm we aren't just invested in our own strategies, we share a personal stake in your success.
Experienced, Consistent Management
The Baird Funds are managed by professionals in Baird's asset management business, which has a reputation for attracting and retaining some of the best talent in the investment industry. In fact in 2015, Pensions & Investments' ranked Baird Asset Management No. 1 in its category on its list of Best Places to Work in Money Management. This is the fourth consecutive year the team has been honored by P&I and the fourth straight year it has ranked No. 1 in its category.

The teams behind the Baird Funds have worked together for a long time and average 25 years of investment industry experience. Most have been with Baird 10 years or more. This stable foundation of expertise has enabled the teams to hone their strategies across market cycles while ensuring consistency of focus on the funds' goals and their clients' needs.
Baird's asset management teams have over $50 billion in assets under management.
About Baird
For nearly 95 years, Baird has been a strong, stable and trusted financial partner across generations and through many market cycles.
Today Baird offers private wealth management, fixed income capital markets and asset management advice and services across the United States. We also serve institutional equity, investment banking and private equity clients around the globe. Baird has more than 100 offices on three continents, and we measure our success by the more than $100 billion in assets that our clients entrust to us.
Being employee-owned lets us grow and run our business with our clients' best interests in mind, and this clients-first philosophy is evident in the high-touch service experienced by investors in the Baird Funds.
Baird Funds are offered through Robert W. Baird & Co., a registered broker/dealer. Baird also serves as investment advisor for the Funds and receives compensation for these services.